After moving in to our new home ?, one of the first things I did was sign up for gigabit internet from @GoNetspeed.
The ONT is in a corner down in our basement and my office is in the second floor at the opposite side.
Follow me as I figure shit out…
Obviously I'm not going to work right next to the ONT all the time, so I at least need a wireless router…
@gcollazo sold me on @Ubiquiti UniFi _things_. We all need these sorta-over-the-top systems to manage our home network after all.
After watching a few videos and reading a few blogs, I bought a Dream Machine.
Basically a cute all-in-one access point, 4-port switch, and Wi-Fi router, with a shit ton of features and settings I know little about with a nice UI/UX.
Surprisingly, first floor is kinda set. Signal on the second floor sucked. I bought a AP BeaconHD W-Fi MeshPoint.
Basically a cute night light with a seamless integration with the Dream Machine that extends Wi-Fi coverage.
Speed tests in my office gave me a nice 300Mbps. Not enough! Where's the other 700Mbps!?
I knew I needed to get some wiring done.
This house is already wired for phone ☎️ and cable ? in every room. All of that ends up back on the basement, right next to the ONT.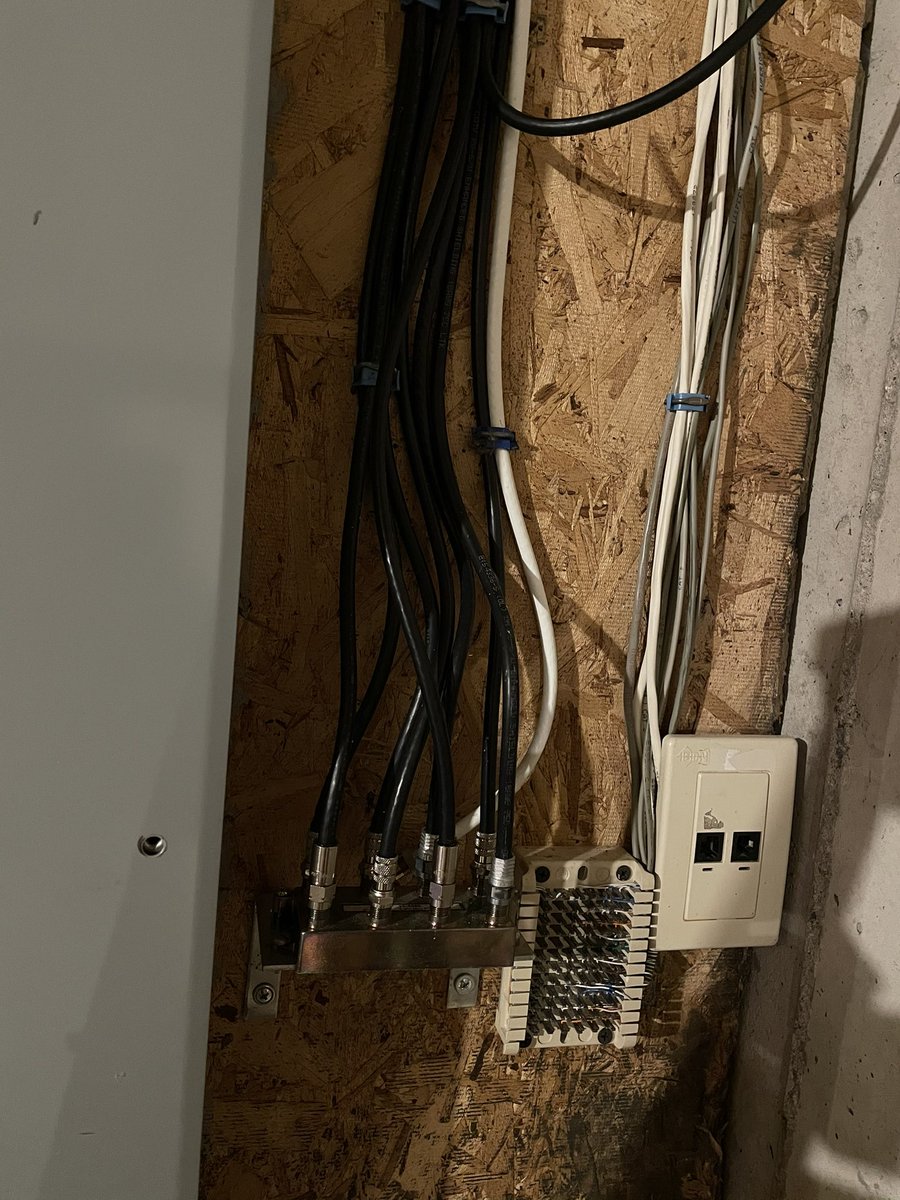 I tried following a few of those cables, yanked on some, and noticed they were stapled in a couple of places.
I called it quits at that point and thought of hiring an expert to do what I wanted.
Fast forward a month and decided to revisit this during the holiday break ?.
I had gone up to the attic once or twice before. Its nice and "finished" only on top of my office. I thought about venturing to the other 3/4 of the space, but was kinda scared I'd just fall through the ceiling and make a horrible mistake ?
I read up and watched some videos that gave me an idea of how to actually walk up there, so I did! I walked the whole thing a couple of times and got comfortable up there, you know, not falling through and all that
I started tracing some of the cables across and took a look at the corner where I imagined some of the cables from the basement came up. Jackpot!
Found some conduits that I hoped went into the basement(they did). One had two coaxial cables and one phone cable.
I found some roll of cable up there that was disconnected, so I tied a metal door stopper I had lying around, put a crap ton of tape and threw it down the empty conduit. Down all the stairs for the nth time.
There it was! It reached the basement!
This gave me the extra confidence that I could maybe do this with the minimum number of tools, holes, and mistakes. Given that I don't even own a drill or anything like that. I have my trusty Ikea toolset, one other screwdriver, and a utility knife.
Went to a home improvement store, got 1000ft of CAT6 cable, because I have no real idea how much I'd need.
Also got a few other things I had seen I would need to actually terminate and test the cables.
I thought I'd give a try creating a 3ft cable first. After like an hour of trying to align cables and getting them on the connector, I noticed I had pass-thru connectors but the wrong crimping tool. Apparently you can still just use a utility knife(I have that!) to cut em.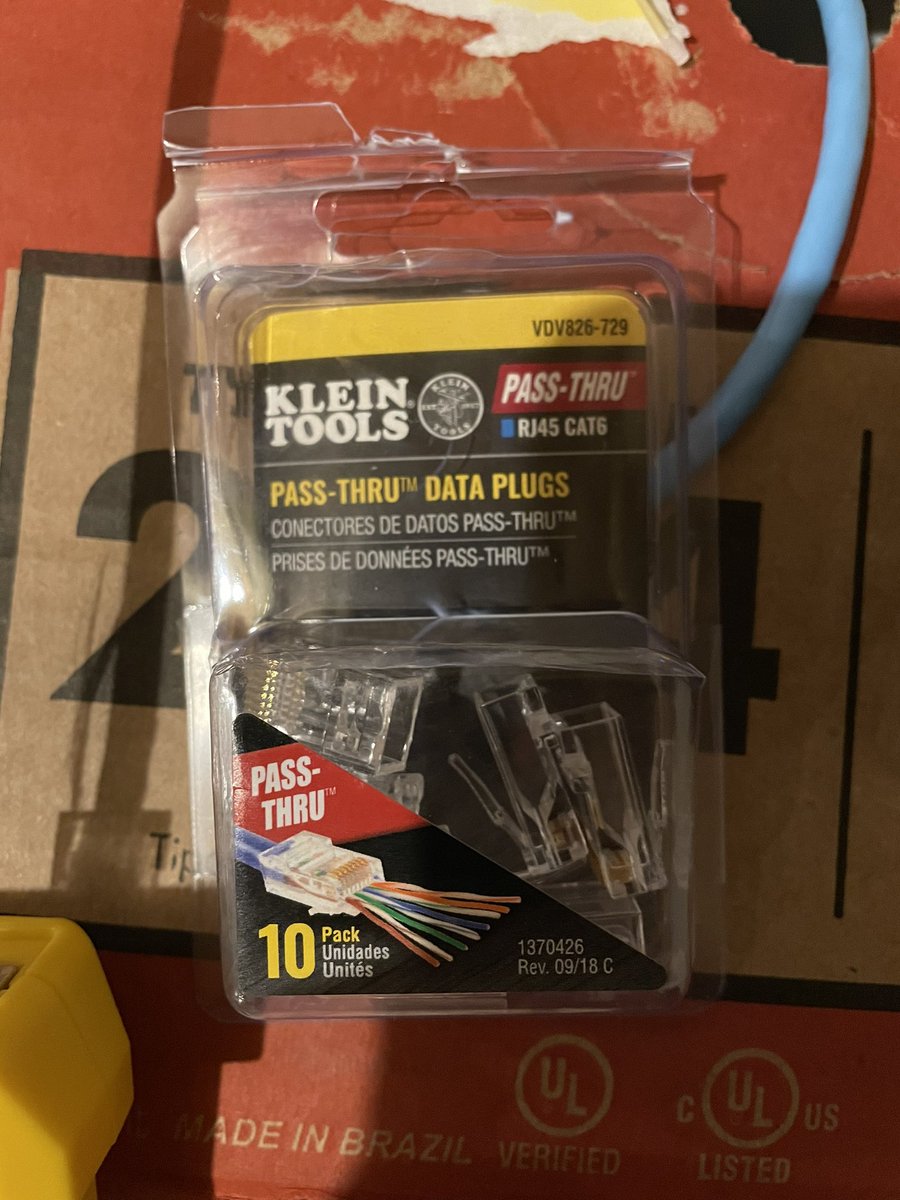 First-timer luck, tested the cable and it passed!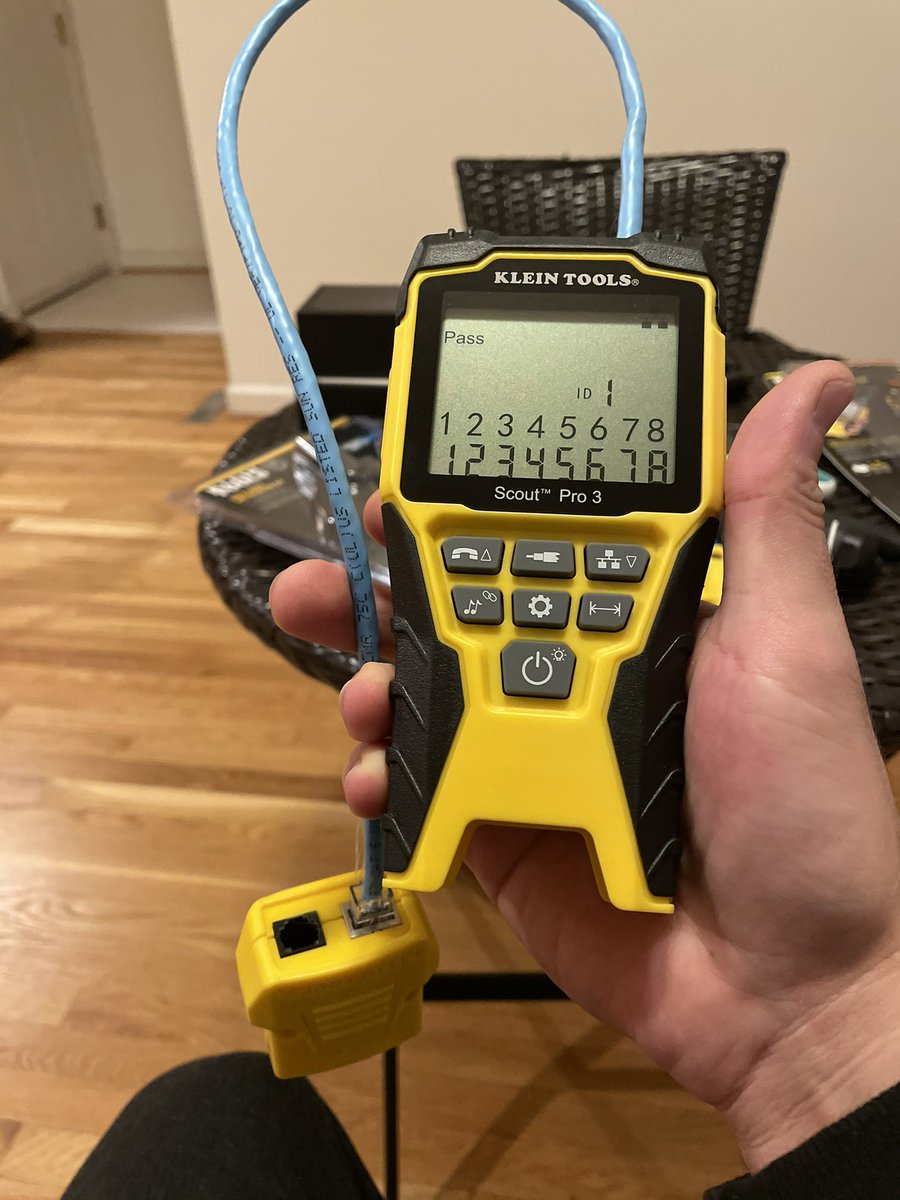 Ok so managed to get one pull line through from the attic to the basement, why stop at one I thought. Lets do more, future me will thank me…
Mistake número 1: this just ended up being tangled a pain in the ass when pulling the actual CAT6 cable up.
Mistake número 2: got multiple pull lines, but no way to identify them. How the hell am I supposed to know which I need to pull up!?
Had to get @anapadilla_ to help me with this mess.
After quite a struggle a pulled the damn thing up to the attic! ?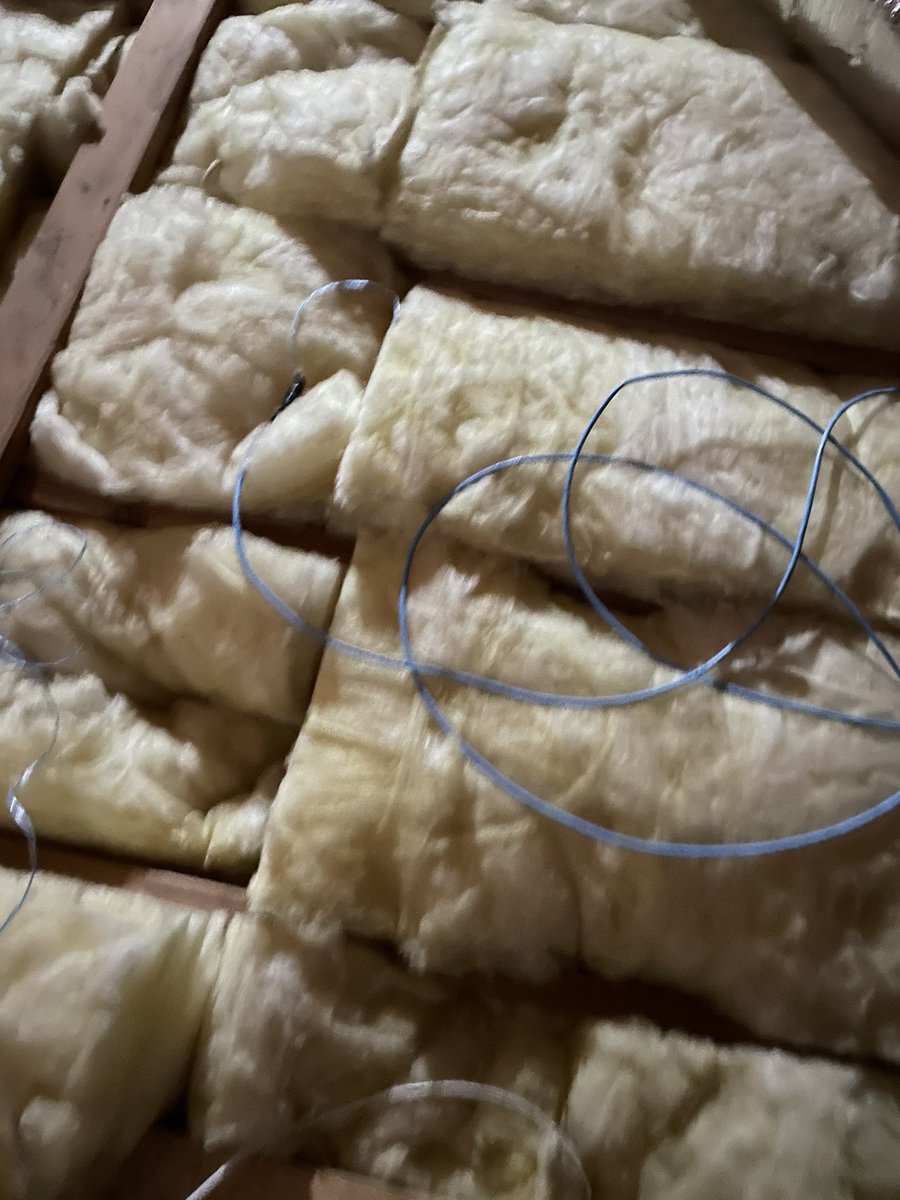 Got it across the attic and up to the conduit thingy that went down into my office.
Mistake número 3: attached the pull string to the cable with some crappy knot and a bunch of tape. Together with the all the strings, and too much pulling, they came off.
Watched some more videos about useful knots for pulling cable, reattached to another pull string and bam?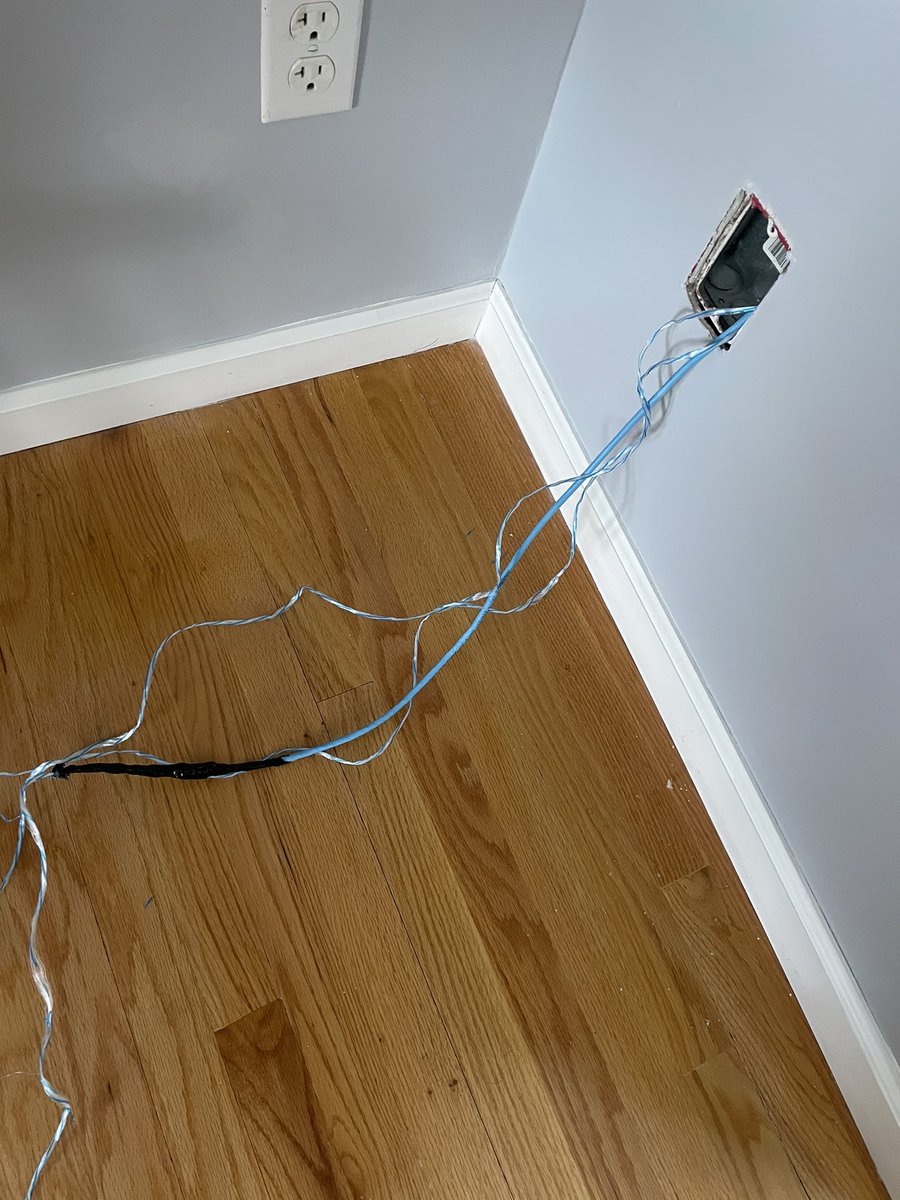 After another hour I got the cable terminated into a keystone jack and replaced the wall plate.
Another hour to terminate the other end in the basement. Moment of truth, got the tester hooked up….
Passed! ✅
I bought two UniFi 6 Lite APs, a UniFi Switch PoE 16, a panel, and rack.
Which I'll install, eventually, right after I buy a drill I guess.
https://store.ui.com/products/unifi-switch-16-150w
https://store.ui.com/products/unifi-ap-6-lite
https://www.computercablestore.com/6u-wall-mount-cabinet-101-series-18-inches-deep
At some point, I'll also try running an ethernet cable down to a few other key places where there's a coaxial cable already.
Oh and maybe get into the UniFi Protect stuff for some cameras and doorbell.
Originally tweeted by José Padilla (@jpadilla_) on January 6, 2021.